By tool-and-die makers for tool-and-die makers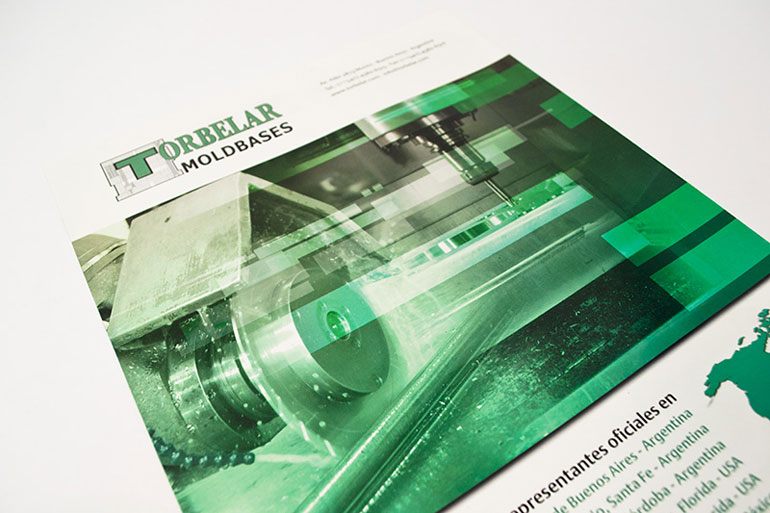 This Project was made for the local branch of Torbelar S.A. and Torbelar Inc., United States, both members of the Torbelar Moldbases Group. It manufactures special mold carriers and mold base carriers. It exports its products to different countries in the Americas and Europe. It is also the local representative of Eldracher SL, Associated Spring Raymond of the Barnes Inc. Group.
Some time after such urgent project where I began my relationship with Torbelar, the company's Board asked me to produce a second video for its traditional presence in a great stand at Argenplas International Plastic Industry Exhibition, and to design and print a two-fold brochure to hand out.
At the beginning, for the brochure they just needed a small company overview and the contact data of its branches and representatives in Latin America and the United States. My proposal included some well finished pictures of the product and the types of mold bases they produce.
For some parts of the video, 3D animation was used: In a joint effort with a 3D animator working under my supervision, I was able to show a mold base animation piece by piece. This was not possible to achieve the traditional way.
The video has the same vector graphics of the brochure animated with 2D and 3D layers in After Effects. A very useful resource to develop an audiovisual story was to alternate the animation and video composition with shoots of the machines in operation, so that the sound of the machinery could appeal many visitors and get them to the stand.
The color palette was standardized both for printed material and the screen so that the chromatic spectrum was shared for both, as well as the stand color palette. In addition to the logistics to take photos of the heavy mold carriers and video-shooting the industrial plant, I supervised both the audiovisual and printed production.
Both the video and the brochure keep the same visual and brand identity line but with different resources – the video highlights all the motion graphics with great impact, video recordings, music (electro-tango, which they like so much), miscellaneous motion graphics, and masks.  The brochure was designed with editorial resources conveying the idea of motion and shares the visual language of a company that has to be accurate and efficient. That's why its business strategy introduces to mold base producers the concept of a serial product with interchangeable parts.